Audi's commitment to unparalleled luxury and performance has made them one of the most popular luxury car brands on the market. The German-engineered cars are known for their exceptional power and handling, as well as their luxurious features and finishes. Audi owners enjoy a unique driving experience that combines the best of both worlds – the power and performance of a sports car with the comfort and amenities of a luxury sedan. The brand's attention to detail is evident in every aspect of their vehicles, from the high-quality materials used throughout the interior to the sleek and sporty exterior design. It's no wonder you shouldn't entrust Audi service to just any auto mechanic!
History and Facts
Audi is a German car manufacturer that is part of the Volkswagen Group. Audi vehicles are known for their luxury, performance, and cutting-edge technology. Here are some interesting facts about Audi cars:
– Audi was founded in 1909 by August Horch. The name "Audi" comes from the Latin translation of Horch, which means "hark!" or "listen" in German.
– Audi's four interlocking rings logo represents the four founding companies of the Auto Union Consortium: Audi, DKW, Horch, and Wanderer.
– Audi performed its first crash test in 1938 and may have been the first auto company to do so.
– Audi's slogan is "Vorsprung durch Technik," which means "Progress through Technology."
– Audi's first electric vehicle, the e-tron, was released in 2018.
Whether you're looking for luxury, performance, or cutting-edge technology, Audi has a vehicle to suit your needs. With a rich history and impressive track record, it's no wonder these cars have withstood the test of time.
Unique Features of Audi Vehicles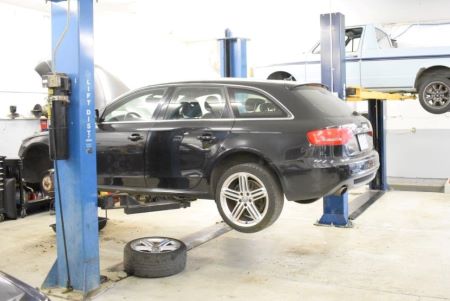 Audis are known for their high-quality and stylish designs. But what really makes them unique is their focus on safety and innovative technology. For example, Audis are equipped with some of the most advanced safety features on the market, such as blind spot detection and lane departure warning. They also have a range of impressive driver assistance technologies, such as adaptive cruise control and traffic sign recognition. In addition, Audis are renowned for their quattro all-wheel drive torque distribution system, which provides excellent traction and handling in all conditions. All these factors combine to make Audis some of the safest, most technologically advanced cars on the road.
Audi's Sustainability
Audi and its parent Volkswagen Group are striving to reduce carbon dioxide emissions related to vehicle production by 30% by 2025. They hope to make all stages of production carbon-neutral by 2050. The company is also increasing its use of renewable energy and recycling, with a new focus on hybrid/electric vehicles and parts that the production line can reuse. Together, these efforts are helping Audi move closer to its goal of a zero-emissions future.
Audi is preparing to shift significantly in its production line as the world moves increasingly towards electric vehicles. From 2026, all new Audi models will be electric. They will stop producing gasoline engines by 2033. This commitment to sustainability is sure to endear Audi to a new generation of environmentally conscious consumers. With its cutting-edge technology and forward-thinking approach, the brand is poised to lead the way into the electric future.
Audi in Motorsports
According to their website, Audi vehicles have competed in over 380 races in 2022 alone. Rally racing is one of the most popular and exciting forms of motorsport. And when it comes to rally racing, few brands are as iconic as Audi. Audi cars have dominated rally stages for decades with their quattro all-wheel drive cars. And today, Audi rally cars are some of the most fearsome machines on the planet. Rally racing is all about driving fast over rough terrain. And thanks to the quattro system, Audi cars have incredibly aggressive handling. This allows them to accelerate hard out of corners and power through the roughest sections of the stage. With their stunning performance and aggressive styling, Audi rally cars always turn heads when they hit the stage. If you're looking for excitement, there's nothing quite like watching an Audi rally car in action.
Common Audi Issues
Audi is a German car manufacturer that is known for making luxury vehicles. However, like all cars, Audi can have their share of problems. Some of the most common Audi problems include engine, electrical, and suspension issues. Engine issues can range from clogged PCV systems, to failing timing chain components. Direct Injection Engines (TSI, FSI, TFSI) often have carbon build up inside the intake manifold causing poor running. Electrical problems can be caused by faulty wiring or module failure. Suspension systems are very stout, having 12 or more control arms, and usually before 100,000 miles control arm bushings will start to wear out in the front suspension.
When Audi owners neglect regular maintenance like fluid and filter services, they risk causing havoc on essential components of their vehicle. The engine, timing components, transmission, cooling system, and much more are all susceptible to damage when routine maintenance is neglected. Not only is this costly to repair, but it can also shorten the lifespan of your vehicle. In order to avoid these costly repairs and keep your Audi running smoothly for years to come, make sure to keep up with its regular maintenance schedule. Fluid and filter changes may seem like a nuisance, but they are crucial in maintaining the longevity and performance of your vehicle. 
It is important not to bring your vehicle into the shop for 'oil change' only services. Audi has CBS (condition-based service) intervals for a very important reason. It is so that an Audi experienced technician can also check over the vehicle for any additional wear and tear and perform services that your Audi recognizes as due maintenance in its onboard computer. Which is typically based on mileage, date, and driving habits. Also, an experienced Audi technician with proper equipment will compute with the onboard systems in your vehicle to let it know that the services have been performed, so your car will not give you messages on your dash that say "Service Due."
While these problems can be frustrating, they can usually be fixed relatively easily by a qualified mechanic. So if you're having trouble with your Audi, don't despair – help is on the way.
Bring Your Audi to Trafton's Foreign Auto!
At Trafton's, we pride ourselves on providing the highest quality service and auto repair available. We believe transparency is key to providing a pleasant customer experience. Our auto technicians are more than happy to answer any questions you might have, and they will always keep you updated on the status of your Audi repair. We know your time is valuable, so we strive to get you back on the road as soon as possible. It's about customer service, not just top-tier automotive service.
Whether you need simple maintenance services or more extensive repairs, we can handle it with ease. We're proficient in all types of services for your luxury vehicle. If you're ever in need of Audi repair, we hope you'll choose Trafton's!