VW VanLife in Portland
The Volkswagen Van is an incredibly iconic vehicle that has gained more and more popularity throughout the years. One of Volkswagen's many famous vehicles, the VW van has been out of production, unfortunately, since 2003. That hasn't stopped the enthusiasts in Portland from collecting, keeping, maintaining, and upgrading their classic VW Vans. Trafton's Foreign Auto is notorious for performing incredible repairs and upgrades on all styles and models of VW Vans, as well as specializing in German auto repair. So, whether you have a classic Type 2 or a newer Eurovan, Trafton's Foreign Auto is your top choice for everything that has to do with your favorite VW Van.
VW Van History
The Type 2 Bus was introduced in 1950 with 2 different types being produced until 1979. The original Type 2 Van was made with a split window design and is sometimes referred to as the "Microbus" or as a "Splittie". It was one of the very first vehicles to be made as a "forward control" van where the driver is in front of the front wheels. Like most old Volkswagen vehicles, the Type 2 Buses have an air-cooled engine mounted in the rear of the vehicle. Multiple variations of the Type 2 were made including the split window, a single-cab utility pickup type, and the 21-window version that is commonly known as the "Samba" or the "Sunroof Deluxe".
The second generation of VW bus came in many forms like the classic Vanagon and the Westfalia. These "T2" models were produced from 1980-1991. These vans were made with both air-cooled and water-cooled engines, both still in the rear of the vehicle. Volkswagen also built some of these vans with 4-wheel drive, known as the "Synchro". The reason these vans remain so popular is due to their ability to have tents on the top, mainly on the Westfalia model.
The last generations of the VW van were produced from 1993-2003. These vans gave us the famous Eurovan, one of the most popular models of VW buses. These models phased out the last of the classic air-cooled engine and brought in the water-cooled engine, which was still rear-mounted.
Repairs for VW Vans
At Trafton's Foreign Auto, we love German engineered vehicles like Porsche's, Audi's, and of course Volkswagen's. We perform all types of repairs, maintenance, and upgrades on classic models and newer models. This remains the same for VW Vans as well! For all of you VW Van fanatics, we are your go-to shop for all of your Volkswagen bus needs! Some of the many services we perform on classic VW buses are:
Drivability
Engine Rebuild
Steering
Suspension
Body Work
Cosmetic Work
With our factory-trained, ASE certified professional mechanics, your Volkswagen Van is safe in our hands. We've been performing specialty repairs on VW Vans and other German engineered vehicles in Portland since 1978, so you know that when you choose Trafton's Foreign Auto for your van repairs, you're getting quality repairs from knowledgeable staff who care about your VW Bus as much as you do!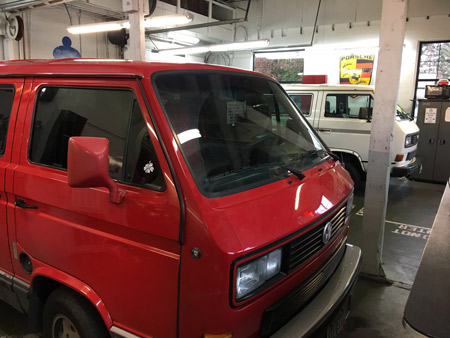 After-Market Van Additions
If you have a VW Bus, we can make all the after-market additions to your van that can make it a part of the booming #VanLife community that is growing mightily in the Pacific Northwest! Whether you're looking to add a tent to the top of your van, a new canvas, or a new awning, we can do it all! Call us today and ask about all of our excellent services for your Volkswagen!