Lamborghinis are one of the most popular luxury car brands in the world. Known for their sleek design and high-performance engines, Lamborghinis are a symbol of wealth, success and performance. In the competitive world of supercars, Lamborghinis are especially exclusive. But what exactly makes them so special? And why is it so important to find a specialized auto shop for even the most basic Lamborghini services? In this post, we'll talk a bit about what makes Lamborghinis such unique vehicles.
History
Lamborghinis have been around for over 50 years, and in that time, they've built a reputation for being fast, luxurious, and flashy. But how did they become one of the most sought-after car brands in the world? It all started with a man named Ferruccio Lamborghini.
A successful entrepreneur, Ferruccio was an avid car enthusiast who was unimpressed with the offerings from Ferrari and other high-end brands. So, he set out to create his own perfect car. The result was the Lamborghini 350GTV, a sleek and stylish sports car that quickly gained attention from celebrities and racing fans alike. From there, Lamborghini went on to release a series of iconic models, including the Miura, Countach, and Diablo. Today, the company is known for its cutting-edge designs and robust engines, and its cars are coveted by automotive enthusiasts around the globe.
Carbon Emissions
Lamborghini is not typically known for its energy efficiency. However, the company is still aiming for an optimal mix of performance and environmental consciousness – as well as that iconic Lambo engine roar. By 2025, all vehicles produced by Lamborghini will be hybrid-electric. Currently, the brand's only hybrid vehicle is the limited-run Sián FKP 37. Only 82 total units (63 coupes, 19 roadsters) were made, all of which were claimed shortly after it was unveiled in 2019.
Like any luxury car, Lamborghinis use a lot of fuel. It's necessary in order to give them their legendary power and intense engine sound. But with MIT-backed supercapacitor technology, powerful electric batteries may soon be able to step in for those gas-guzzling engines. There are even plans for a fully-electric Lamborghini before 2030. In any case, the company hopes to reduce its vehicles' emissions by 50% by 2025.
Did You Know?
The fastest Lamborghini model available for general purchase is the Aventador, which has a top speed of 217 mph and goes from 0 to 60 in under 3 seconds.

The fastest speed clocked by a Lamborghini is 221 mph.

Ferruccio Lamborghini got his start as a tractor manufacturer in 1947.

Legend has it that Ferruccio Lamborghini was inspired to create his own sports car after an argument or disagreement with Enzo Ferrari.

Many Lamborghini models are named after famous bulls due to the founder's interest in Spanish bullfighting.

The Volkswagen group acquired the Lamborghini brand in 1998.

Due to its high speed, a Lamborghini Huracan owned by the Italian police was once used to transport a donor kidney over 300 miles to its recipient. It made the trip in just over 2 hours.
Customizability
Lamborghinis are also highly personalized to suit the tastes of each and every single owner. The interior and exterior colors can be customized – not to mention the seats and rims as well. You can even choose whether the Lamborghini logo on the front seat is branded or stitched into the leather! These cars aren't just expensive and luxurious; they also reflect the individual tastes and style of their owner. With such a high level of investment, it's no wonder that Lamborghini owners are so interested in keeping their custom vehicles in the best possible shape.
Why You Need Expert Lamborghini Repair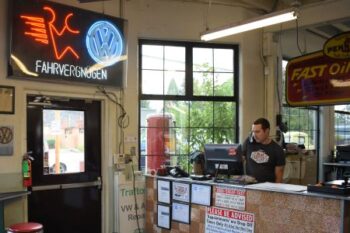 When it comes to repairing your Lamborghini, it is vital to find an expert with the knowledge and experience to do the job correctly. Like any luxury vehicle, Lamborghini repairs require high-quality parts and tools to keep it running the way it's meant to.
Your Lamborghini is a complex machine, and even small repairs can significantly impact its performance. If you take your car to a general auto repair shop, they may not have the specialized tools and equipment needed to work on your vehicle properly. In addition, they may not be familiar with the unique features of your car, which could result in costly mistakes.
Not only that, a non-specialized shop might take advantage of you by overcharging for their services. By working with an expert who knows your car inside and out, you can be sure that they will do your repairs right the first time. In addition, you will have peace of mind knowing that your car is in good hands.
Come to Trafton's Foreign Auto!
Here at Trafton's Foreign Auto, we understand that only the best will do when it comes to your Lamborghini. That's why we are proud to be the only independent automotive shop in the area with the factory tools required to perform all services and repairs to Lamborghini factory specifications. Whatever your car needs, you can rest assured that our expert service technicians will get the job done right.
We know that your Lamborghini is an investment, and we are committed to helping you keep it in top condition. That's why Trafton's is such a valuable resource for Lamborghini owners. Our full-service shop has years of experience working with these cars, and we understand the unique challenges that they can pose. Whether you need an oil change, simple brake service, or even engine repair services, you can trust that we will provide the care and respect your car deserves – and excellent customer service on top of that. Call us today to schedule a service appointment, and see for yourself why we are the best choice for Lamborghini owners in the area.