Portland's Best German Auto Repair
For Volkswagen, Porsche, and Audi Mechanic Services
Classic Foreign Auto Repair
There isn't a single problem too big or small for our factory-trained and certified mechanics to fix. Come in to Trafton's Foreign Auto for great service on your new or classic Volkswagen, Porsche, or Audi vehicle. With the best mechanics around and the best service at a competitive price, Trafton's has set themselves apart from the competition and has become the most trusted name for Volkswagen, Porsche, and Audi repair in Portland.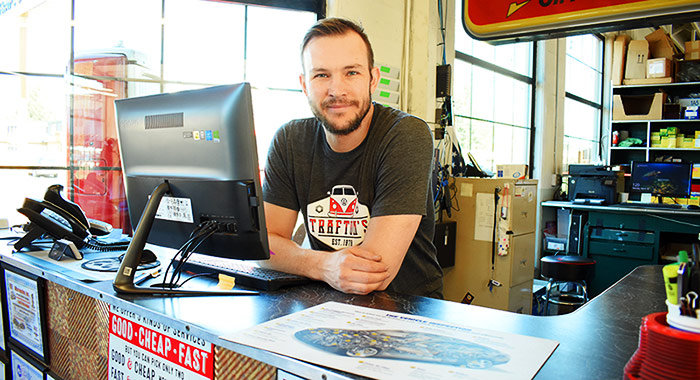 Trafton's Foreign Auto
Frequently Aked Questions About German Auto Repair In Portland, OR
Do air-cooled Porsches require special oil? Yes, air-cooled Porsches typically require specific oils that meet the manufacturer's specifications. It's essential to use high-quality oils recommended for air-cooled engines to ensure proper lubrication and cooling.
What kind of oil should I use in my German car? German cars require a high-quality synthetic oil that meets the manufacturer's specifications. You should always consult your owner's manual or a qualified mechanic to determine the best type of oil for your specific make and model.
Can you convert my VW or Porsche to electric? Yes, We now perform eclectic conversions! If you have a VW or Porsche we are ready to convert it to electric.
Trafton's Foreign Auto Is Proud To Be A Locally-Owned Auto Repair Shop In Portland, OR
Trafton's Foreign Auto, nestled in the vibrant city of Portland, Oregon, is a trusted and locally-owned auto repair shop that caters to the needs of foreign car enthusiasts. With a passion for precision and a commitment to excellent service, Trafton's has become a go-to destination for locals seeking top-notch automotive care.
Situated just a stone's throw away from popular attractions, Trafton's Foreign Auto understands the needs of their community. Whether it's families enjoying a day of thrills at Oaks Amusement Park, visitors exploring the beautiful Peninsula Park, or outdoor enthusiasts conquering the trails of Mt Tabor Park, Trafton's knows that reliable transportation is crucial for seamless enjoyment of these local gems. Directions To Trafton's Foreign Auto
Your Search For German Auto Repair Near Me Is Over
Equipped with a team of highly skilled technicians, Trafton's Foreign Auto specializes in servicing and repairing foreign vehicles, ensuring that every car that rolls into their shop receives the utmost attention and expertise. From routine maintenance to complex repairs, Trafton's commitment to quality workmanship and customer satisfaction is unmatched.
When it comes to foreign auto repairs in Portland, Trafton's Foreign Auto stands out as a reliable, locally-owned gem. With their focus on quality, proximity to local transit stations like Parkrose/Sumner Transit Center Park & Ride, Southeast Division Street, and North Killingsworth Street & North Interstate Avenue, and dedication to community engagement, Trafton's remains a trusted destination for car owners seeking exceptional service in the heart of Portland. Transit Directions To Trafton's Foreign Auto
We Are Proud To Offer Our Services To The Residents Of Many Portland Neighborhoods, Including:
97233, 97236, 97216, 97030, 97230, 97024, 97266, 97220, 97215, 97250, 97252, 97086, 97213, 97206, 97080, 97060, 97218, 97089, 97214, 97232, 97015, 97212, 97202, 97222, 97211, 97204, 97256, 97254, 97253, 97227, 97209, 97201, 97267, 97239, 97205, 97027, 97009, 97219, 97217
Read Some Of The Reviews Frome Our Customers
"Needed an oil change in my 2018 Audi Q7 and couldn't believe what the dealerships in the area were telling me about how long my car would be there for just that service, 24-48 hours. For an oil change, get real. Coworker of mine told me about Trafton's and said they are the best. I looked them up and could see they get great reviews. Called and booked my appointment for an oil change and tire rotation. Showed up just before 8am and as I was getting out of my car they came to me to check me in and called me by name. They listened to what I wanted done and took into account that I was heading out of town later that day with my wife. They got all the work done way ahead of schedule. It is hard to find that kind of great customer service anymore. I would highly recommend them to anyone and will be back for my next service for sure. Thank you for a great experience!!!" -Eric G.
Read More Reviews Here
"Love all the guys at Trafton VW. They have done pre purchase inspections on several vehicles for me over the last few years. They are wonderfully detailed and completely honest in their reports of the inspection and they are fairly priced for all the work that they do. I recommend them to everyone. They are honest and fair as well as they do fantastic work. You can tell everyone there loves what they do and they love VWs, porsches and Audis. Thank you to the wonderful crew!" Carla K.
Read More Reviews Here
"Trafton's Foreign Auto is my go-to for all my vehicle maintenance needs. They always charge a reasonable price and provide quality work. Highly recommend!" -Martha B.
Read More Reviews Here
We're Proud To Offer A Wide Range Of Auto Repair Services, Including:
Aircooled Porsche
Aircooled VW
Audi Repair
Audi Service
Bentley Auto Repair
Bentley Service
German Engine Rebuild
Lamborghini Repair
Lamborghini Service
Porsche Rebuild
Porsche Repair
Porsche Service
Subaru Repair
Subaru Services
Volkswagen Service
VW Engine Rebuild
VW Performance
VW Repair
VW Service
VW Van Restoration
About Portland, OR
Nestled in the picturesque Pacific Northwest, Portland, Oregon, stands as a vibrant city brimming with creativity, natural beauty, and a distinct laid-back charm. Known for its lush green parks, thriving food scene, and progressive culture, Portland captures the hearts of both locals and visitors alike.
Exploring the city, you'll find an abundance of unique neighborhoods, each with its own character and charm. From the bohemian vibes of the Alberta Arts District to the trendy streets of the Pearl District, Portland offers a diverse array of experiences. Amidst this tapestry of neighborhoods lies Trafton's Foreign Auto, a beloved locally-owned auto repair shop that has become an integral part of the Portland community.
Trafton's Foreign Auto has been serving the city for years, earning a stellar reputation for their expertise in maintaining and repairing foreign vehicles. Their dedication to excellent service and a passion for precision have made them a trusted destination for car owners across Portland. Whether you're a resident in need of routine maintenance or a visitor facing unexpected car troubles, Trafton's Foreign Auto provides top-notch automotive care, ensuring that you can navigate the city's streets with confidence.
Beyond their automotive expertise, Trafton's also reflects the essence of Portland's community spirit. They actively engage with the local culture, sponsoring events and initiatives that contribute to the city's vibrant fabric. Their commitment to supporting attractions like Oaks Amusement Park, Peninsula Park, and Mt Tabor Park showcases their deep connection to Portland's landmarks and their understanding of the needs of the community.
In the heart of Portland, Trafton's Foreign Auto is more than just an auto repair shop—it's a testament to the city's values of craftsmanship, community, and sustainability. With their exceptional service and local relevance, Trafton's embodies the spirit of Portland, making them a trusted partner for car owners in this dynamic and welcoming city.
Directions To Trafton's Foreign Auto