If you own a Bentley, you know that it's not just a car – it's a work of art. Each Bentley is handcrafted with the utmost care and attention to detail, and that level of craftsmanship should be reflected in any repairs or maintenance that is done on the vehicle. That's why it's important to take the time to find a quality repair shop that specializes in working on Bentleys. By taking the time to find a quality repair shop, you can be sure that your Bentley will be in good hands. Here we'll discuss a few things to look for when choosing a shop.
Experienced Professional Technicians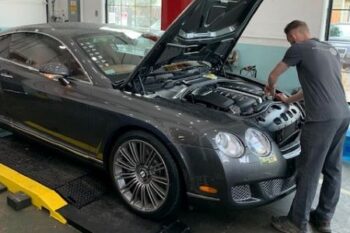 When you're getting your car worked on, you want to know it's in the best possible hands. With a Bentley, this is even more critical; instead of merely knowing whether your auto repair shop works on German or British vehicles, you need to know that they have extensive experience working on your specific make before you drop it off. This is because Bentley repair requires a lot of attention to detail and careful handling, even for routine maintenance like an oil change. Even a small mistake could lead to higher repair costs down the line.
These cars require genuine manufacturer parts for replacements; if you take your Bentley to an unspecialized shop, you risk them cutting corners or using non-authentic parts that could damage your vehicle. In fact, an unspecialized auto shop may not even be able to properly diagnose your car's problem. That's why it's so important to ask your auto shop about their experience level working with Bentley systems specifically before you commit. It's vital that you find automotive technicians with the knowledge and experience necessary to keep your Bentley running like new for years to come.
Genuine Bentley Parts
When it comes to high-end luxury cars, there are few brands that can match the quality and craftsmanship of Bentley. Known for their exquisite design and legendary performance, Bentley automobiles are prized possessions that require special care and attention. It's important to use only genuine Bentley parts when repairing or servicing one of these vehicles, and an experienced technician will be aware of that.
Unlike aftermarket or generic parts, genuine Bentley parts are specifically designed and engineered to work with the unique components of a Bentley vehicle. As a result, they provide the best possible fit and finish, as well as optimum performance. What's more, using genuine Bentley parts helps to maintain the value of your car, should you ever decide to sell it. So if you're lucky enough to own a Bentley, be sure to entrust it only to those who will use only the finest parts and materials.
Clean and Organized Workshop
When you take your car in for repairs, you want to be confident that the shop you're using is clean, organized, and professional. A messy, disorganized shop can be a sign of poor workmanship, which can put your car at risk of further damage. A shop that is clean and well-organized, on the other hand, is a sign that the staff takes pride in their work and is committed to providing the best possible service.
In addition, a clean shop is more likely to have up-to-date equipment and tools, which means your car will be repaired with the latest technology – which is especially important for a luxury vehicle like a Bentley. So when you're looking for an auto shop, be sure to choose one that is clean, organized, and professional. Your car will thank you for it.
Quality Customer Service
As with any vehicle, it's important to know that your Bentley is in good hands. Customer service is the face of any company, so that first impression is invaluable. If a repair shop is rude on the phone or they aren't upfront with you on repair costs or service details, it's a red flag. While the quality of their customer service does not necessarily indicate the quality of their work, it's still something to consider.
If a company is open with you and offers exceptional service, it's a good sign that they value your time and patronage. With a responsive and friendly company, even if something does go wrong with your vehicle, it's a good sign they'll make it right. Quality repair shops will offer a warranty on their work, which shows they're confident in their abilities and willing to stand by that work.
Reviews
If you know anyone who has owned a Bentley, ask for their recommendation on a good repair shop. They will likely have first-hand experience and can give you an honest opinion on which shop to use. If you have the opinion of someone you trust, it's like a shortcut.
If you don't know anyone with a Bentley, a quick Google search will find reviews for local repair shops. Be sure to read through both the positive and negative reviews to get a well-rounded idea of each shop's quality of work. Don't be afraid to ask questions if you aren't sure about the services they offer!
Once you have narrowed down your options, take some time to research each shop. Look at their website, read through their services offered, and compare prices. This will help you make an informed decision on which shop is right for you.
Call Trafton's Foreign Auto!
At Trafton's Foreign Auto, we are proud to offer a wide range of services for Bentley owners. We have a team of highly skilled technicians who are experienced in all aspects of Bentley maintenance and repair. From routine oil changes to more complicated issues like engine performance, we are here to help keep your Bentley running like new.
We understand that your Bentley is an investment, and we are dedicated to providing the highest quality care possible. So next time the Check Engine light comes on, keep us in mind. If you're looking for the best possible service for your Bentley, you need not look any further than Trafton's Foreign Auto.