Owning a Lamborghini is a dream come true for car enthusiasts. As one of the most luxurious and high-performance sports cars on the market, a Lamborghini requires regular maintenance to ensure it continues to operate at peak performance. Regular maintenance service is key to extending the lifespan of your Lamborghini and keeping it in top condition. Neglecting even small maintenance tasks can result in serious issues down the line, potentially leading to expensive repairs or even a shortened lifespan for your car. In this blog post, we'll explore the various ways in which maintenance service can help extend the lifespan of your Lamborghini, and why it is so important to keep your luxury car in top condition.
Get an Extended Car Warranty on Your Lambo
As much as we might wish it were otherwise, there is no avoiding the fact that every vehicle eventually succumbs to the wear and tear of daily driving. While there are certainly many steps you can take to mitigate this process – such as keeping up with regular maintenance and avoiding harsh driving conditions – these alone may not be enough to protect your Lamborghini from costly repairs. That is where an extended auto warranty comes in. Designed to safeguard your vehicle against unexpected mechanical issues, an extended warranty can provide peace of mind knowing that you'll be covered even if the worst should happen. Whether you're driving a new Lambo or a used one, this additional layer of protection can make all the difference in keeping your high-end vehicle on the road for longer.
Get Good Car Insurance
Accidents and break-ins happen, but that doesn't mean you have to settle for subpar repairs on your Lambo. When looking for car insurance, make sure to find a provider who will cover original manufacturer parts and provides a guarantee for authorized repairs. Do your due diligence, educate yourself about where to get Lamborghini insurance and what type you should get for this specific car, and discuss it with your insurance company on the best course of action.
Stay On Top of Routine Maintenance with Experts on Lamborghinis
Auto dealerships may ask you to come in for routine maintenance, but rest assured, it's not just a ploy to get paid for unnecessary service appointments. Keeping your Lambo in top condition requires regular maintenance and tune-ups, especially for high-performance cars like the Lamborghini. Routine maintenance includes:
Oil changes
Tire rotations, checking the treads
Cooling system checks
Fluids checks and changes (transmission fluid, engine coolant, brake fluid, windshield washer fluid, power steering fluid)
Electrical repairs, if needed
Filter checks and changes
Battery and charging system checks
Brake system checks
Checks of various components and functions to ensure they're functioning correctly and not wearing down too quickly
Neglecting this upkeep can result in decreased performance and even lead to a high cost of repairs. So, take care of your Lambo, and it will take care of you, delivering the performance and longevity you deserve.
Read Your Owners Manual and Follow It the Best You Can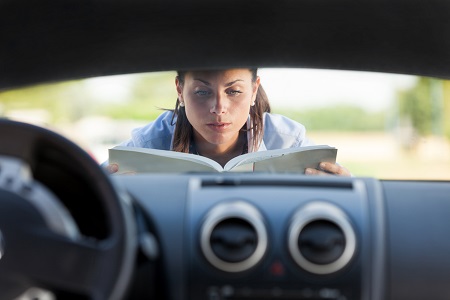 With a little effort and time invested in reading through your Lamborghini's owner's manual, you can easily schedule the necessary maintenance. Meeting the maintenance schedule helps ensure that you don't void the manufacturer's warranty, which can be a significant headache later on. You don't want to find yourself stranded on the side of the road waiting for a tow truck due to a neglected cooling system or suspension failure.
Become a Defensive Driver
As a proud owner of a Lamborghini, it's vital to keep in mind that you're driving a vehicle unlike any other. Its speed and performance can be exhilarating, but it's crucial to remember that safety should always be your top priority. By implementing defensive driving tactics, you'll safeguard yourself and other drivers on the road. Defensive driving entails anticipating potential hazards and reacting swiftly to avoid them. It involves being aware of your surroundings, obeying traffic laws, and keeping a safe following distance. Road rage and reckless driving should be avoided at all costs, as they can lead to catastrophic consequences. Remember, owning a Lamborghini is a privilege but also a responsibility.
Always Maintain a Good Level of Fuel in Your Tank
As a driver, it's easy to become reliant on the technology in our vehicles to give us information about our gas tanks. However, relying solely on this can be a mistake that leads to unnecessary wear and tear on your engine. By paying attention to the fuel level and filling up before the tank gets too low, you can help keep debris and other waste out of your fuel filters and ensure that your engine doesn't have to work too hard. It may seem like a small, simple tip, but it can make a big difference in helping you get the most out of your high performance fuel system.
Wash Your Lambo More Often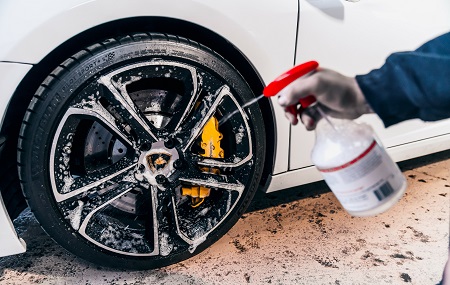 Maintaining the exterior and interior of your Lamborghini is fundamental to ensure a longer lifespan for your vehicle. With just one quick and easy wash per month, you can keep debris and dust from scratching up the paint, minimize fading, staining and cracking on the seats and dash, and ensure your windshield is clear and easy to see through. Thankfully, by getting a regular car wash, you can easily prevent rusting and erosion from taking hold. So why not invest a little bit of time and money into keeping your car in top-notch condition?
Don't Let Your Lambo Sit for Long Periods of Time
If you own a Lamborghini, it's important to keep in mind that this high-performance car requires regular use and attention to keep it running smoothly. Allowing your Lambo to sit for long periods of time in the driveway or garage without proper maintenance can result in a host of issues, from dead batteries to flat-spotted tires and even engine problems. When a car sits idle for too long, the fluids can start to break down, and parts can deteriorate due to lack of use. To prevent such problems, it's recommended to drive your Lamborghini at least a couple of times a month and keep it properly maintained during periods of non-use.
Keep a Lambo Log
Keeping a maintenance log of your car may seem like a small task, but it can make a big difference when it comes to keeping your car in tip-top shape. Keeping track of all the services, repairs, and replacements can be an overwhelming task. That's why maintaining a thorough record of all the work done on your car can be so beneficial. Not only does it keep you organized at a basic level, but it also ensures that you know exactly what work has been done and when it's time for the next service. This not only saves you time and hassle, but it also makes sure that you only pay for the services that your car truly needs.
Call Trafton's Foreign Auto for All Your Maintenance and Repair Needs
At Trafton's Foreign Auto, we pride ourselves on being the leading independent automotive shop for Lamborghini owners. Our team of foreign vehicle specialists possesses extensive experience and the factory-certified tools required to perform any service or repair to Lamborghini factory specifications. You can trust us with even the most straightforward routine maintenance tasks, whether it be a simple oil change or servicing e-gear/clutch-related issues on your Gallardo. Our focus on quality and trust ensures that our customers are always satisfied with the level of customer service they receive.
Don't hesitate to contact us today and let us take care of your Lamborghini needs, from auto repair services to scheduling regular maintenance checks.
Lamborghini's we service:
Lamborghini Urus
Lamborghini Gallardo
Lamborghini Murcielago
Lamborghini Aventador
Lamborghini Huracan
Visit our About Us page for more information about our auto repair shop.