If you drive an Audi, you should understand that it's essential to have your vehicle serviced by experts familiar with every aspect of your car. Audi vehicles are among the highest quality German makes globally, but that doesn't mean they won't eventually need repairs. If you drive your Audi every day and rack up a lot of mileage, certain parts of your vehicle may wear out and need maintenance. It is important to ensure that the Audi repair shop you visit is qualified and trustworthy as this will help you avoid faulty repairs and maintenance neglect. This post provides an overview of the different repairs and maintenance services you can expect for your new Audi.
What are some common Audi issues?
Although Audi vehicles are generally known to offer high-quality and reliable performance standards, mechanical problems can still occur from time to time. This is especially true if you've accumulated thousands of miles on your engine. Some of the more common issues that you should look out for include:
Transmission Problems
Audi transmissions, like any other transmission, can have issues if not properly maintained and regularly inspected. If you're experiencing fluid leaks, strange noise, or problems shifting gears it is a good indication that you should take your vehicle into your trusted repair shop and have your transmission inspected.
Brake Failure
Brakes are one of the most important components of any vehicle and over time can become damaged due to normal wear and tear. If your Audi's ABS (anti-lock braking system) sensors begin to fail it will cause a warning light to illuminate. If your ABS light comes on you should have your vehicle inspected right away. Depending on what is wrong, some repair services might include rotor replacement, caliper repairs, and rotor resurfacing.
Check Engine Problems
If your check engine light comes on, it often can signify a problem with your vehicle. There are several reasons your Audi engine light could be illuminated, including problems with your spark plugs, air filters, catalytic convertor, or many other things. It's important to schedule a maintenance appointment when you check engine light comes on otherwise it could lead to serious problems!
Engine Failure
While total engine failure is not very common, it could happen to anyone at any time. That's why it's extremely important to have a professional check your engine regularly. Like all things, proper and regular maintenance can save you money and unnecessary headaches!
Cooling System Failure
Sometimes, the cooling system on your Audi may fail to work, leading to overheating and coolant leaks. Audi coolant tank replacement, radiator repair, and thermostat replacement are some solutions to a cooling system failure. 
Suspension Failures
If your tires are wearing unevenly it could be due to improper alignment, overinflated tires, or worn-out suspensions which could eventually lead to your vehicle requiring a new set of tires. In some cases, you will need to replace suspension components, such as struts, which wear out over time. If your Audi is clunking while you drive or makes a grinding noise when you turn your wheel, you should schedule an inspection with your auto repair shop ASAP as this is not a safe condition to drive in.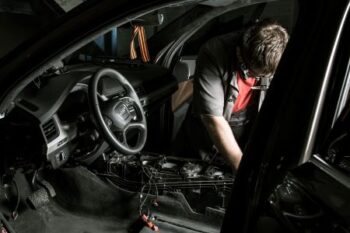 Collision Repairs
If you need to repair your Audi after a collision, you should insist on an authorized Audi collision repair facility. These places have special equipment and trained technicians certified by the manufacturer to repair your vehicle correctly. Audi collision repair technicians are authorized to provide the repair services you need to restore your vehicle.
Collision insurance claims have to be filed with your insurance company first and will go through a claims adjuster or collision repair shop. If it passes inspection, you can go back to any authorized collision repair facility.
How much should I expect to pay for minor Audi repairs?
Minor repairs can be performed in a short period of time and typically do not involve expensive replacements. Some of these services can include things like oil changes, tire rotation, new wiper blades, and engine tune-ups. Minor repairs for Audi vehicles are generally easy to perform and are relatively inexpensive.
How much should I expect to pay for major Audi repairs?
Significant repairs like brake replacements, engine repair, and transmission work require more time and effort These services should always be performed by an experienced technician. Some repairs might be more expensive than others and can vary depending on the model of your vehicle and how significant the problems are. 
Conclusion
When you buy any car, there will always be things that you cannot predict. Audi owners should prepare for all minor and major repairs that may arise over time. Most people assume that Audi repairs are expensive, but they don't have to be. Trafton's Foreign Auto offers competitive pricing and has a team of trained and certified professionals that know how to take care of your Audi. Give us a call today if you need maintenance or repairs for your Audi or if you have any questions. We're happy to help
FAQs
Can I choose my own shop?
Yes! You can take your vehicle to any repair shop that is affiliated with Audi. But it has to be a licensed Audi dealer, dealership, or repair facility. Otherwise, Audi will not honor the warranty on your car. However, you do not necessarily have to go through your Audi service center for all your repairs.
Why should I repair my car at an authorized Audi shop?
Audi repair shops have trained technicians who specialize in Audi repairs and maintenance. These technicians have access to Audi diagnostic equipment – which means they can troubleshoot problems quickly and efficiently. Audi-certified repair shops offer a warranty on their work, so you know that your car will be fixed correctly the first time around.