If you drive an Audi, you should understand that it's essential to have your vehicle serviced by experts familiar with the Audi brand. Audi is among the highest performance German makes globally, but that doesn't mean they won't eventually need repairs. If you drive your Audi every day and rack up mileage, certain components on your vehicle may wear out and require servicing. It is important to ensure that the Audi repair shop you visit is qualified and trustworthy as this will help you avoid faulty repairs, misdiagnosis and maintenance neglect. This post provides an overview of the different repairs and maintenance services you can expect for your new Audi.
What are some common Audi issues?
Although Audi vehicles are generally known to offer high-performance and luxury as well as reliability, mechanical and electronic failures are still a possibility from time to time. This is especially true if you've accumulated thousands of miles on your engine. Some of the more common issues that you should look out for include:
Fuel System Problems
Many Audi models use a high-pressure fuel system that injects fuel directly into the cylinder head. High-pressure fuel pumps (HPFP) can have tappet failure, which can cause intense damages to your engine, often due to oil contamination from the cam and tappet.
Oil Leaks
Oil leaks can leak from valve covers, main seals, cam seals, timing tensioner gaskets and various other places. PCV (positive crankcase ventilation) systems can influence engine gasket failure, causing multiple oil leaks on your engine. It is important to properly diagnose these issues to avoid repairing the same leak more than once.
Check Engine Problems
If your check engine light comes on, it is intended to let you know that your vehicle is not performing as designed. You may not notice any physical changes to your vehicle's performance, such as rough running or increased fuel consumption. Regardless it is essential to have your vehicle checked out when your warning lights are illuminated to avoid further damage.
Engine Failure
While internal engine failure is not extremely common, it could happen to anyone at any time. That's why it's extremely important to have a professional check your engine regularly. Like all things, proper and regular maintenance can save you money and unnecessary headaches!
Cooling System Failure
Sometimes, the cooling system on your Audi may fail, leading to overheating and coolant leaks. Audi coolant temp sensors, thermostats, expansion tanks and heater cores are some solutions to a cooling system failure depending on the circumstances.
Suspension Failures
If your tires are wearing unevenly, it could be due to improper alignment. Common causes of misalignment are due to worn control arm bushings. Audi has more control arms for superior handling than many other vehicle makes; these control arms lined with rubber bushings that allow for the vehicle suspension to adjust and flex. Worn-out bushings can cause excessive camber, tow and/or caster. It is important to have your suspension checked, especially if you commonly drive on bumpy roads such as speed bumps or roads with potholes.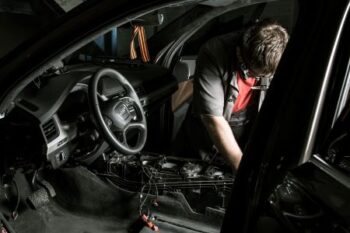 Collision Repairs
If you need to repair your Audi after a collision, you should insist on an experienced Audi collision repair facility that also has the equipment to repair and initialize your vehicle's electronics after a collision. These places have special equipment and trained technicians certified by the manufacturer to repair your vehicle correctly. Audi collision repair technicians are authorized to provide the repair services you need to restore your vehicle.
Collision insurance claims must be filed with your insurance company first and will go through a claims adjuster or collision repair shop. If it passes inspection, you can go back to any authorized collision repair facility.
How much should I expect to pay for minor Audi repairs?
Minor repairs can be performed in a short period of time and typically do not involve expensive replacements. Some of these services can include things like oil changes, tire rotation, new wiper blades, and engine tune-ups. Minor repairs for Audi vehicles are generally easy to perform and are relatively inexpensive.
How much should I expect to pay for major Audi repairs?
Significant repairs like engine and body electronic management system repairs, engine repair, and transmission work require more time and effort. These services should always be performed by an experienced technician. Some repairs might be more expensive than others and can vary depending on the model of your vehicle and how significant the problems are.
Conclusion
When you buy any car, there will always be things that you cannot predict. Audi owners should prepare for all minor and major repairs that may arise over time. Most people assume that Audi repairs are expensive, but they don't have to be. Trafton's Foreign Auto offers competitive pricing and has a team of trained and certified professionals that know how to take care of your Audi. Give us a call today if you need maintenance or repairs for your Audi or if you have any questions. We're happy to help.
FAQs
Can I choose my own shop?
Yes! You can take your vehicle to any repair shop that is affiliated with Audi. But it has to be a licensed Audi dealer, dealership, or repair facility. Otherwise, Audi will not honor the warranty on your car. However, you do not necessarily have to go through your Audi service center for all your repairs.
Why should I repair my car at an authorized Audi shop?
Audi repair shops have trained technicians who specialize in Audi repairs and maintenance. These technicians have access to Audi diagnostic equipment such as ODIS (the factory diagnostics that connects your vehicle to the Audi manufacturer – which means they can troubleshoot problems quickly and efficiently. Audi-certified repair shops offer a warranty on their work, so you know that your car will be fixed correctly the first time around.