Looking for a Professional Volkswagen Mechanic?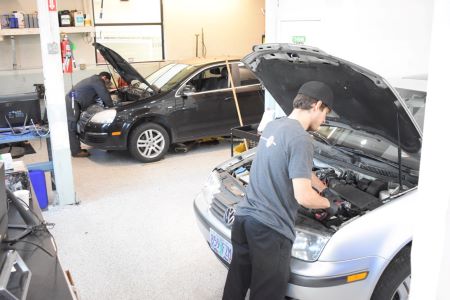 You rely on your car. When it starts making a weird new noise or otherwise acting up, you can't afford to waste time in addressing it — and you can't afford to take chances on low-quailty repairs. That's why it's best to take your car to a trusted, local mechanic — and Trafton's Foreign Auto is the best team for the job in the Clackamas OR area.
No matter what your VW needs — from simple routine maintenance to a full engine overhaul — the Trafton's Foreign Auto team can provide expert service at a reasonable price. We love these cars, and keeping yours on the road is just as important to us as it is to you. Whether you have a brand-new car or a classic aircooled, our team is eager to help.
Thorough Volkswagen Maintenance
It can be tempting to put off minor vehicle services if there isn't anything wrong with your car. However, it's very important to keep on top of your car's regular maintenance, like oil changes and tune-ups. If a lot of smaller problems pile up, they can easily pave the way to a breakdown and major repairs. So don't ignore that Check Engine light; as soon as your car starts telling you there's a problem, give Trafton's a call.
VW Services Our Team Provides
Diagnostics
Direct Injection Repair
Timing Belt Repair and Replacement
Oil Leak Repair
Coolant Leak Repair
Thermostat and Water Pump Replacement
Brake Repair
Suspension Repair
Clutch Replacement
Transmission Repairs
Electrical & Programming
…and more!
Local, High-Quality Volkswagen Repair Shop
The best way to ensure you're getting high-quality service for your Volkswagen is to take it to a shop specializing in these cars. Trafton's is one of those shops. We're passionate about VWs, and we love working on them.
When it comes to an auto repair shop specializing in VWs, you can't go wrong with the decades of experience at Trafton's. Whether you know exactly what your car needs or you're completely in the dark, bring your VW to our team. With the most up-to-date diagnostic equipment and skilled technicians, you can count on exceptional service every time.
Clackamas's First-Choice VW Auto Repair Service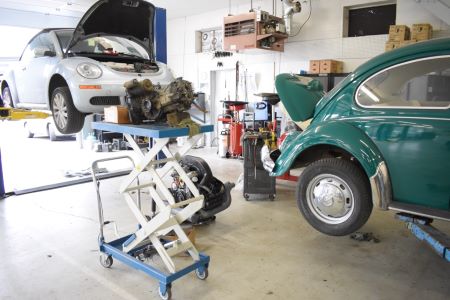 If you're looking for a full-service VW mechanic in Clackamas OR, you're in the right place. Our experienced auto technicians and first-class customer service truly set us apart from the competition. We can help you with all your Volkswagen's needs, from preventative maintenance to extensive engine work.
For all your foreign car service needs, count on Trafton's Foreign Auto. Our team has been working on Volkswagens since 1978, so it's fair to say we know our way around these cars. We're factory-trained and certified to work on VWs of all types, so you can rest assured that your car is getting the best care possible. With us, you can count on superior customer service and expert vehicle care. Give us a call to set up an appointment.