We Are Your Local Subaru Repair Shop In Gresham, OR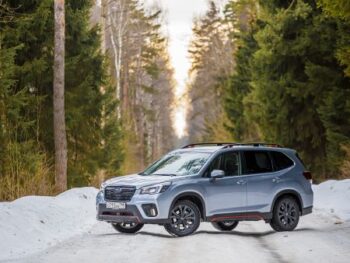 When it comes to maintenance and auto repair services for your Subaru vehicle, there's one name that stands out: Trafton's Foreign Auto. With our exceptional track record, professional team, and commitment to excellent customer service, we strive to be the go-to destination for all your Subaru services.
Subaru vehicles have earned a reputation for their durability, reliability, and unique engineering. Finding the right auto repair shop to maintain all of these great qualities is important. Our team at Trafton's Foreign Auto can handle everything from regular brake service to replacing timing belts and everything in between. Give us a call today and let our team take care of your iconic vehicle.
Give Us A Call For Subaru Auto Repair And Maintenance Today
Regular maintenance is key to ensuring your Subaru's longevity and optimal performance. Our team at Trafton's recognizes the importance of preventive care and offers comprehensive services to keep your vehicle running smoothly. From oil changes and fluid checks to brake inspections and tire rotations, our team follows manufacturer-recommended guidelines to provide meticulous care for your Subaru.
When it comes to auto repair services, Trafton's Foreign Auto service center is well-equipped to tackle any problem, from minor repairs to major overhauls. Our technicians are trained to diagnose and resolve issues efficiently and effectively. Whether your Subaru is experiencing engine trouble, electrical malfunctions, or suspension problems, Trafton's has the diagnostic tools and technical expertise to provide reliable repairs.
We're The Subaru Repair Specialist You Can Rely On
At Trafton's Foreign Auto, customer service is at the heart of everything we do. We understand that Subaru owners have a special bond with their vehicles, and we strive to provide the personalized attention and care they deserve. From the moment you walk through our doors, our friendly staff will greet you with a smile and listen attentively to your concerns. We always take the time to explain the repairs needed and offer transparent pricing and detailed explanations to ensure you feel confident in our recommendations.
At Trafton's, we take pride in our professional team, composed of highly trained technicians who are passionate about Subaru vehicles. We regularly attend workshops and training sessions to stay up-to-date with the latest advancements in Subaru technology and repair techniques. This commitment to continuous learning enables us to deliver top-notch service and ensures that your beloved Subaru is in capable hands.
When You Need Subaru Transmission Repair, We're Here To Help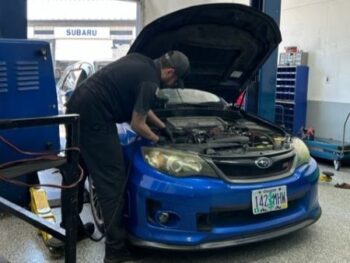 Subaru transmission repair requires the expertise of skilled professionals who understand the intricacies of these vehicles. The transmission is a crucial component that ensures smooth operation and power delivery in a Subaru. Whether you're experiencing slipping gears, rough shifting, transmission warning lights or any other transmission-related issues, it's essential to trust your Subaru to a reputable repair service. Our skilled technicians will diagnose the problem accurately and provide the necessary repairs or replacements to get your Subaru's transmission back in optimal condition. With our expertise and specialized knowledge, we can ensure that your Subaru's transmission performs flawlessly, allowing you to enjoy a smooth and reliable driving experience.
When you choose Trafton's for your Subaru repair needs in Gresham, you can expect exceptional technical expertise and a seamless experience. We have invested in state-of-the-art equipment and utilize industry-leading diagnostic tools to pinpoint issues accurately. This commitment to advanced technology enables our team to streamline repairs, reducing downtime and getting you back on the road as quickly as possible.
Your Search For Subaru Repair Near Me Is Over
When it comes to Subaru repair in Gresham, OR, Trafton's Foreign Auto is the premier choice. Our dedication to extensive auto repair services, professional team, and exceptional customer service is what sets us apart from the competition. With Trafton's, you can trust that your Subaru will receive the care it deserves, ensuring its performance and longevity for years to come. Give us a call to schedule a service appointment for your Subaru today!