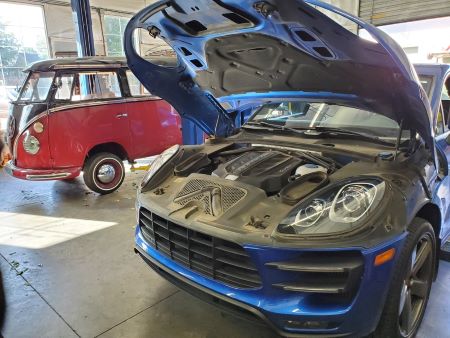 Are You Looking for Porsche EV Service Near Me?
Since 1978, Trafton's has provided Portland OR with the best Porsche services and German auto repair around. Our mechanics are factory trained and certified and can fix any issues that arise in classic or new model Porsche vehicles. For the best customer service for your high-performance Porsche, look no further than Trafton's Foreign Auto!
We make sure that we only hire factory-trained mechanics who are just as passionate about your Porsche as you are. Because we share this same passion for your German-made vehicle, we've earned the reputation for being one of the top names for Porsche service in Portland.
What kind of
Porsche Models
does Trafton's service?
We Can Perform Porsche Electric Vehicle Conversion
Trafton's can service a number of Porsche models! We can perform services and repairs on both classic models and newer models of Porsches including:
911
356
912
914
Cayman
Boxter
Cayenne
Macan
Panamera
Taycan
When it comes to maintaining your Porsche vehicle, it takes more than just generic service to keep it running at its peak performance. Our factory-trained mechanics are capable of making sure that your Porsche remains a high-performance vehicle with outstanding maintenance services including:
Oil Changes
Fluid Changes and Replacements
Clutch Replacement
Check Engine Light and Electrical Diagnosis
Brake Service
IMS Bearing Service
Transmission Service
Air oil separator replacement
Timing chains & timing covers
Thermostat replacement
and more!
Contact our friendly team and ask about our different Porsche services in Portland!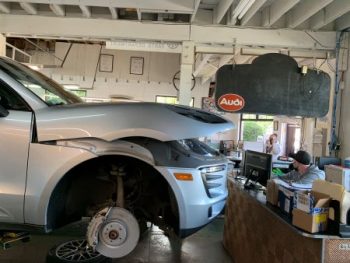 Where Can I Find the Best Porsche Service in Portland?
The best Porsche services in Portland can be found at Trafton's Foreign Auto. Since 1978, we've been providing our customers with quality service that they can see. When you visit us, you can watch your vehicle get worked on by the mechanic while you sit in our lobby. You can even ask us questions while we work! This personal touch is what sets us apart from other auto shops. We allow you to be up close and personal with our technicians. Come visit us today and get your Porsche service from the trained professionals at Trafton's Foreign Auto!
Are You Looking for Porsche EV Services in Portland?
Many luxury car brands are going electric, and Porsche is no exception. The Porsche name is no stranger to hybrid-electric vehicles — its founder, Ferdinand Porsche, created the first gasoline-electric hybrid vehicle in 1900! — but fully-electric vehicles are a newer challenge. As EV technology has grown and changed, so too have our repairs and services; Trafton's is proud to be an auto repair shop capable of keeping your electric Porsche on the road for years to come.
Our experienced technicians are just as enthusiastic about your high-investment vehicle as you are. You can count on us for all your electric Porsche repair and maintenance needs, keeping your car in peak condition for the road ahead. Trafton's have been Portland's best-choice Porsche repair shops since 1978, and we look forward to keeping it that way into the future.