Are You Looking For Professional Audi Service Near Me?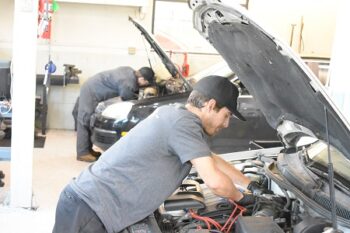 An Audi is a luxury brand vehicle that combines high-power performance with an exceptional behind-the-wheel experience, and the best way to keep your investment performing at its finest is with regular maintenance. At Trafton's Foreign Auto, we provide the auto repair and service that you can rely on. Our team of experienced mechanics understands everything that goes into servicing an Audi, from the basics like oil changes and a tire rotation to brake repair and transmission repair. We are one of Gresham's top German vehicle specialists. Our auto repair shop provides reliable maintenance that gives you the peace of mind you deserve and the friendly service our customers have come to expect.
At Trafton's, we understand that Audi vehicles are not ordinary and should be serviced by someone that has the skill and experience of working with fine German engineering. Our team has the tools, technology, and training to get the job done no matter what it is.
The Importance Of Audi Maintenance
Keeping up with your Audi repair and service is crucial to maintaining its longevity and performance. When regular maintenance like fluid and filter services are neglected, it can wreak havoc on important components of your vehicle such as the engine, its timing components, transmission, cooling system, and much more, which are far more costly to repair. Additionally, when you maintain a regular service schedule, your vehicle will run more efficiently. If there's one thing you shouldn't procrastinate on, it's taking your Audi in for routine service and addressing any auto repair needs as quickly as possible.
What Kind Of Audi Models Does Trafton's Service?
Audi has a wide range of car models, from SUVs and sedans to convertibles and coupes. At Trafton's, our auto shop is proud to provide reliable services for all of these models, including:
A3, A4, A5, A6, A7, A8, and Allroad
S3, S4, S5, S6, S7, RS3, RS5, RS7, R8 and TT
Q3, Q5, and Q7
When it comes to maintaining your Audi vehicle, you can't neglect the fundamentals. Regular services are what keep your Audi running at its peak performance, and having a team of expert mechanics on your side can make all the difference. At Trafton's Feign Auto, we are happy to provide the following services for your Audi:
Oil changes
Fluid changes and replacements
Brake service
Transmission service
Timing chains
Timing chain tensioners
Intake manifold cleaning
Carbon cleaning
Fuel injectors
Module programing
Key replacement and programing
Recall updates
Brake vacuum pump resealing
Timing belts
Water pumps
Thermostats
Cooling system leaks
Valve cover gaskets
Oil pan gaskets
Oil leak repair
Our friendly technicians are happy to answer any questions you may have. For top-notch Audi auto repair service and maintenance in Gresham, call Trafton's today!
Looking for Audi EV Service in Gresham?
Working on electric and Hybrid vehicles requires a different skill set than traditional gas-powered cars. In an effort to become more energy-conscious, Audi, like many luxury car brands, has increasingly turned to electric vehicles. EV technology evolves fast, and you need an auto repair team with the knowledge and skill to keep up with these changes.
Top-quality Audi service shouldn't stop with the earlier generations of vehicles. Trafton's Foreign Auto is proud to work on all models of the Audi e-tron and hybrid vehicles. As technology advances, our auto repair facility is ready to handle it. Whether you drive a Q5 hybrid or a brand-new e-tron, you can count on our team for reliable Audi service and repair — as well as excellent customer service.
Where Can I Find The Best Audi Service In Gresham?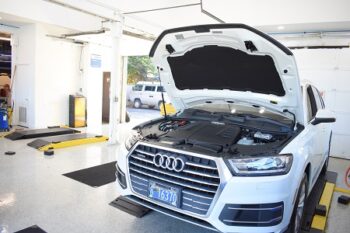 Since 1978, Trafton's has strived to provide the highest quality customer service and auto repair available. When you visit us for your Audi service and repair, we invite you to watch as our certified mechanics work on your vehicle. We believe this is the best way to provide a pleasant and transparent experience for our customers. Our service technicians are more than happy to answer any questions you might have. For this reason and many others, Trafton's Foreign Auto has been able to set itself apart from other auto repair shops. We pride ourselves not only on our quality auto repair services but also on the customer relationships that we build around our mutual admiration for these beautiful, German-engineered vehicles. Give us a call today and see how Trafton's can be of service to you!