Audi Repair Services Clackamas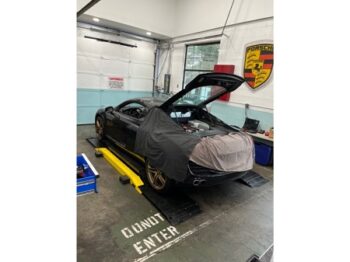 Audi is more than just a high-quality vehicle brand; it is one of the finest examples of German engineering. Audi owners understand the one-of-a-kind feeling that comes with driving these luxury cars. From high-power and fine-tuning, to the luxurious, behind-the-wheel experience, Audi has continued to maintain this exceptional standard, and Trafton's has been here to stand by it. At Trafton's Foreign Auto, our team is fully equipped with the advanced technology, tools, and in-depth factory training needed to keep your Audi's fine tolerance engineering in premium condition.
We understand that when you drive the best, you want the best, which is why we are committed to providing the finest customer experience possible. Our team of experts will keep your Audi running like new with our comprehensive services that include everything from engine overhauls and in-depth diagnostics and troubleshooting, to basic repairs and maintenance. Many of our team members are factory-trained technicians and are passionate about maintaining the quality standard that Audi has set. Our vast experience in German auto repair and a team of professional mechanics has made Trafton's Foreign Auto a leading Audi repair and maintenance provider near Clackamas, OR.
---
We Are Your Go-To Audi Repair Shop Near Clackamas
At Trafton's Foreign Auto, we know how important your Audi is to you. We also understand how important it is that all Audi repairs be performed with the proper tools. Many other vehicles can utilize universal equipment, but there is nothing universal about an Audi, not the parts it's made of or the fluids that go into it. We provide reliable repairs on various Audi models and recognize that there is no such thing as one size fits all for these first-rate vehicles. Our team is here to provide you with the quality service that your vehicle deserves. Whether you need engine repair, brake repair, or anything in between, we've performed thousands of Audi repairs and have the experience to resolve your concerns.

Call Trafton's For A Trusted Audi Mechanic Today
Scheduling your Audi for routine maintenance is crucial to ensure your vehicle continues to run smoothly, but eventually, every car will need repairs at some point. At Trafton's Foreign Auto, we understand that to work on an Audi, a person not only needs to have the skill and experience of auto repair on German engineered vehicles but also the proper technology and specialized tools to get the job done correctly. Even the most basic repairs should be handled by a qualified team as improper work can have devastating and costly repercussions. At Trafton's, we provide the top-notch service you expect to get the peace of mind you deserve.

For All Your Audi Auto Repair Needs, Trafton's Is Here To Help! Give Us A Call Today!
---
Reliable Auto Repair For Most Audi Models
At Trafton's Foreign Auto, we have over 43 years of experience providing reliable auto repair services for all different models of Audi's including: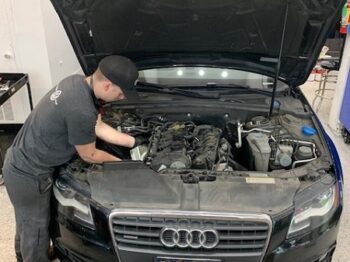 Experienced Audi Repair Services We Offer:
Detailed Diagnostics & Electronics Testing
EVAP and Lean Rich Faults
Emissions and DEQ Repair
Clutch Replacement
Brakes
Timing Belts & Water Pumps
Heating & A/C
Check Engine Light
ABS
Suspension
Head Gaskets
Valve Cover Gaskets
Exhaust Repair
Transmission Repair
TDI Repair
At Trafton's Foreign Auto, We Do It All!
Our team of experienced mechanics is just as passionate about your Audi as you are! You shouldn't let just anyone work on your vehicle, not when you have a dependable company like Trafton's by your side.

---
The Search For Audi Repair Near Me Is Over!
Since 1978, Trafton's has been one of the top names for Audi repair near Clackamas. We employ a team of qualified and reputable technicians to provide you with the reliable repair and maintenance services you need. We understand that you care about the performance of your high-class, German-engineered vehicle, and we do too, which is why we pride ourselves on providing the highest quality customer service and mechanical work. Your Audi deserves to operate at its utmost capability, so when you need any work done, don't hesitate to call Trafton's Foreign Auto, Clackamas's Audi repair specialists!