Get Professional
Porsche Engine Rebuild
in Portland!
Porsche has been a staple in the world of high-performance German luxury vehicles. At Trafton's Foreign Auto in Portland, we specialize in Porsche repair and rebuild services, including engine rebuilding. Our factory-trained mechanics can perform engine rebuilds on both air-cooled and water-cooled Porsche engines. Our technicians have the proper training and all the necessary tools to rebuild your Porsche's engine. Since 1978, we've been performing expert repairs, rebuilds, and restorations for Porsche models, as well as Volkswagen and Audi models. When your Porsche needs an engine rebuild, contact the local German auto repair experts at Trafton's Foreign Auto.
Do you have a classic
Air-Cooled Porsche Engine Rebuild
project?
Classic air-cooled engines remain popular among Porsche owners and other German car enthusiasts. While these engines remain classics, they can be problematic at times, requiring serious repairs if not properly maintained. Finding a German auto repair shop that can properly perform repairs and rebuilds on air-cooled Porsche engines is difficult but Trafton's is here to help you with all your Porsche repair needs. Make sure you choose the auto repair shop that shares the same passion for your classic Porsche as you do. We can perform regular maintenance on your classic Porsche air-cooled engine to make sure you can avoid a complete engine rebuild. This means we can maintain every aspect of the engine, including the fans.
Here are some common signs that your air-cooled Porsche engine may need a rebuild:
An increase in exhaust smoke
Lack of power from the engine
Knocking noises
Smoke coming from hood/engine area
The engine is constantly overheating
If your classic Porsche is showing any of these signs, contact the friendly and local staff today at Trafton's Foreign Auto and schedule an appointment with one of our factory-trained technicians.
What models of
Air-Cooled Porsche
does Trafton's work on?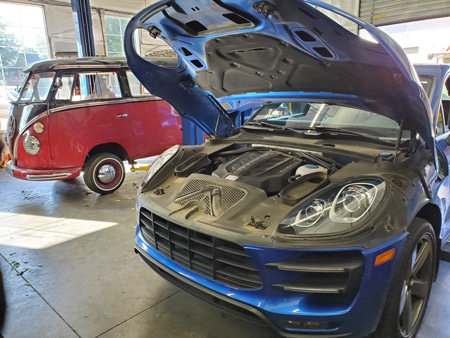 At Trafton's Foreign Auto, we work on many different models of German autos, but when it comes to air-cooled Porsches, we work on the select few models that feature the classic air-cooled engines. These models are:
Your Local
Porsche Engine Rebuild Shop
in Portland!
Our factory-trained and certified Porsche mechanics share the same passion about your Porsche as you do. That means we will take care of your Porsche as if it was our own vehicle. Dealerships can get expensive when it comes to engine rebuilds on air-cooled Porsche models, but Trafton's will give you quality service, classic and hard to find parts, top-notch knowledge, and the care your Porsche deserves all at a competitive price!